Celebrities say the darndest things.
I love it when celebrities are candid, and say things off the cuff. I wondered who would be so bold as to say what everyone in Black America was thinking while watching the Emmys.
Well, that award goes to actress Issa Rae, the star of HBO's critically-acclaimed tv show "Insecure."  She echoed the sentiments of probably every Black person who stayed up to watch the 69th Primetime Emmy Awards on Sunday night. When asked her favorite picks on the red carpet of Emmy night, she candidly remarked,  "I'm rooting for everybody Black!" I just cracked up when I heard that. Didn't you?! I mean, I think the same thing when I'm watching "Family Feud."
.@IssaRae at the #Emmys: "I'm rooting for everybody black" (WATCH) https://t.co/YYfzvUXIpK pic.twitter.com/aH9SX4XlLO

— Variety (@Variety) September 19, 2017
Let me be clear:  Just because I'm pro-Black, it doesn't mean that I don't want other folks to win. I'm glad actress Elizabeth Moss finally took home an Emmy for her role in Hulu's "The Handmaid's Tale." I think she should have won one for the role of Peggy Olson on "Mad Men," but I was excited that she nabbed the Emmy for Outstanding Lead Actress in a Drama Series … IF of course, Viola Davis didn't win. Moss was my second choice. I love her work, along with other nominated actors like Nicole Kidman, Robin Wright, Felicity Huffman, Jessica Lange, Susan Sarandon, and Ellie Kemper as well as Liev Scheiber, Kevin Spacey, Milo Ventimiglia, Jeffrey Tambor, and Robert De Niro – just to name a few.
I'm a student of television, and I watch A LOT of tv, from brain-candy reality shows like the "Love and Hip Hop New York," "Love and Hip Hop Atlanta," and "Love and Hip Hop Hollywood," to urban shows like "Black-ish," "Empire," "Power," and "Atlanta," to the critically-acclaimed, prestige shows like "This Is Us," "House of Cards," "The Unbreakable Kimmy Schmidt," and "Transparent" – just to name a few. Like I said, I watch a lot of tv! And apparently, I need to add "Veep" to my list since it's always winning awards too. Julia Louise Dreyfuss walked away with another Emmy in her category of Outstanding Lead Actress in a Comedy Series for a record SIX straight years! She must really be funny on "Veep."
But like Issa Rae, I'm "rooting for everybody Black" because in 2017, people of color are still breaking down barriers in Hollywood AND making history at award shows. In fact, the triple Emmy-nominated powerhouse show runner Shonda Rhimes ("Grey Anatomy," "Scandal") called the Emmys "embarrassing," telling Vanity Fair, "To me, it feels embarrassing that we're still in a place in which we have to note these moments …  ."
COVER STORY: @SterlingKBrown opens up about his historic #Emmys win in morning-after interview https://t.co/nANfa5MNVh pic.twitter.com/9gE00Kp8tt

— Variety (@Variety) September 20, 2017
Well, yes, as "embarrassing" as it may be, here's a list of historic moments from Emmy night:
Diversity was on display with 27 people of color nominated in acting categories for drama, comedy, limited series, movies and shorts. Fan favorites included Viola Davis, Sterling K. Brown, Tracee Ellis Ross, Anthony Anderson, Regina King, Donald Glover, Michael K. Williams, Tituss Burgess, Leslie Jones and David Chappelle.
Sterling K. Brown ("This Is Us") snatched the biggest prize of the night — that is, winning the Emmy for Outstanding Lead Actor in a Drama Series. He was the first Black actor to do so in almost 20 years, after Andre Braugher grabbed the award in 1998 for his role in "Homicide: Life on the Street." In the 69-year history of the Emmys, Brown is one of four actors to win it along with James Earl Jones for "Gabriel's Fire" and Bill Cosby's two-time win for "I Spy."
Donald Glover picked up an Emmy as the second Black man to win the statuette for Outstanding Lead Actor in a Comedy Series for "Atlanta." Robert Guillaume snagged it for his role of "Benson" in 1985.
Donald Glover was the first African American to win an Emmy for Outstanding Directing in a Comedy Series for "Atlanta" with the episode, titled "B.A.N."
Lena Waithe became the first African American woman to snap up an Emmy win for Outstanding Writer in a Comedy Series ("Master of None"), sharing it with series creator and star Aziz Ansari, who is Indian. Because Waithe is gay and a woman of color, the accomplishment was a milestone for the LGBTQ community.
Comedian Dave Chappelle nabbed his first Emmy for Best Guest Actor in a Comedy Series for his hosting gig on "Saturday Night Live."
Actor and comedian Jermaine Fowler of CBS's "Superior Donuts" was the first African American to land the coveted gig as the announcer of Emmy night.
Honorable Mention:
Riz Ahmed became the first Muslim and actor of Asian descent to win an acting Emmy for Outstanding Lead Actor in a Limited Series for his role in "The Night Of."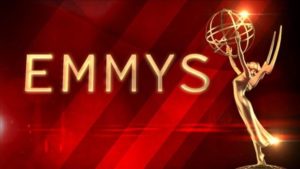 So, it was a good night for diversity at the Emmys. The Oscars could learn a thing or two. But despite the wins, there are still disparities for people of color and women in Hollywood when it comes to inclusiveness, the roles, the salaries, and positive representation on the small screen.
Still, we have to celebrate our victories, one Emmy night at a time. #EmmysSoBlack
Here's a list of winners and nominees from the LA Times.