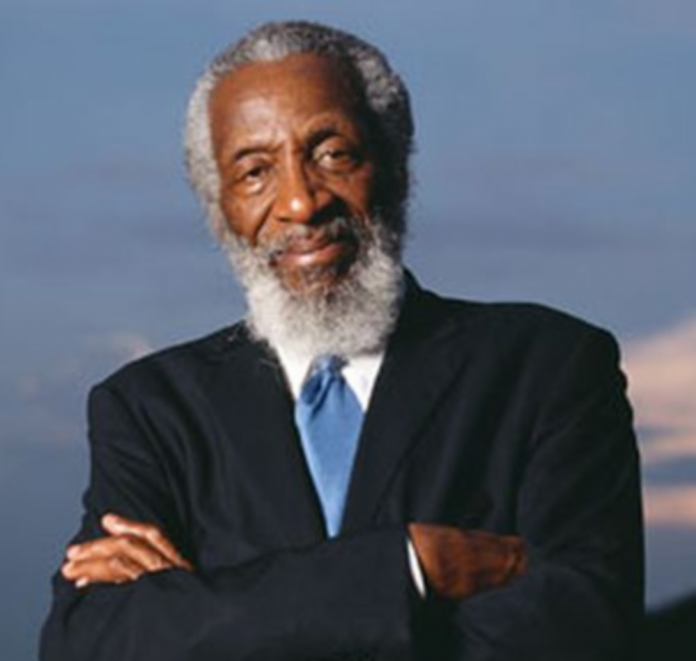 Long time, no see. Sorry for the long hiatus, but my day job got in the way.
I thought this would be perfect time to "re-launch" my blog with a #ThrowbackThursday tribute to comedian and civil rights activist Dick Gregory, who passed away on August 19, 2017 at the age of 84 in Washington, DC. A memorial service, celebrating his life and legacy will be held on Saturday, September 16, 2017 at the City of Praise Ministries in Landover, Md. It's only fitting that I pick up from where it all began. See, what you don't know is … I started my career as a writer/journalist with my very first celebrity interview with the legendary Gregory!
If you're not familiar with Gregory, he was a pioneering comic from the 1960s who used his racially-charged comedy to bring attention to racism and social justice. Before there was Kevin Hart, Chris Rock, and Eddie Murphy, there was Dick Gregory. Called the "Jackie Robinson of Comedy," he kicked open doors as one of the first crossover comedians, and the first Black comic to sit on the couch of the "Tonight Show" with Jack Parr. He also became an outspoken voice for the Civil Rights Movement, and used his brand of comedy for social and political activism. He marched. He protested. He staged hunger strikes. Gregory was a comedic lightening rod! In 2015, he was awarded a star on the Hollywood Walk of Fame. A warrior to the very end, in one of his final posts, he encouraged all of us to #StayWoke.
Meeting Dick Gregory, Twice in a Lifetime!
I was an English major, a senior at North Carolina Central University (NCCU), and the editor of the college newspaper, The Campus Echo. I was on deadline for a story, but I didn't have one. I guess I was suffering from writer's block or something. Anyway, it so happened that staff members of the school's newspaper was heading to New York City to cover the sights and sounds of the 16th annual Whitney M. Young Jr. Memorial Football Classic, featuring NCCU vs. Grambling State. The game was held in Yankee Stadium on September 20, 1986 in front of thousands of fans. I promised our advisor, Professor Kip Branch — a mentor, even to this day — that I would find "something" to write about in New York City. Imagine his surprise when I came back to school with an interview from DICK GREGORY!! Although our team lost the football game, I scored an interview of a lifetime!