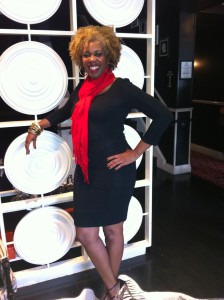 Wyllisa Bennett | publicist du jour
(Translation: French,  "publicist of the day")
With more than 20 years of experience, Wyllisa Bennett has honed her skills as an award-winning writer, communicator and public relations practitioner. A North Carolina native, Wyllisa relocated to Los Angeles in 2001, and continued her career as a writer and entertainment publicist. She founded wrb public relations, a boutique public relations agency that specializes in entertainment publicity.
As an entertainment publicist, Wyllisa uses her creative and communication skills to help celebrities, filmmakers, tv personalities, authors, non-profit organizations and companies achieve their public relations and marketing goals.
She has worked with a plethora of award-winning actors, reality stars, personalities and household names, including reality stars NeNe Leakes ("The Real Housewives of Atlanta," "Glee"), Alexis Bellino ("Real Housewives of Orange County"), and two-time Emmy Award-winning celebrity hairstylist Kiyah Wright ("Love in the City"); plus award-winning actors Isaiah Washington ("Grey's Anatomy," "The 100"), Sheryl Lee Ralph ("Moesha,"  "Designing Women" and "Instant Mom"), and Victoria Rowell ("The Young and the Restless"); as well as radio personality and filmmaker Russ Parr ("The Russ Parr Show") and radio personality and comic  J. Anthony Brown ("The Tom Joyner Show" and "The Rickey Smiley Show").
Wyllisa has worked on numerous film campaigns, and served for five years as a media consultant and publicist of record for the Pan African Film Festival (PAFF), the nation's largest and most prestigious international Black film festival, held annually in Los Angeles.
A native of North Carolina, she's held positions with Community Pride magazine and The Charlotte Observer as assistant to the publisher/staff writer and special sections writer, respectively in Charlotte, North Carolina. She also served as director of public relations & marketing at the Levine Museum of the New South.
During her undergraduate studies at North Carolina Central University (NCCU) in Durham, N.C., Wyllisa served as a communications aide (state intern) at the Office of Lieutenant Governor, the honorable Robert B. Jordan III in Raleigh, N.C. She received a bachelor's degree in English, with a minor in media journalism at NCCU.