LIVE FROM THE RED CARPET!
(Plus, some behind-the-scenes shots, too!)
PIC OF THE DAY!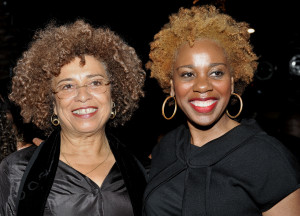 'Fro 2 'fro: This picture is one of my favorite photographs! I'm posing with social icon Angela Davis at the premiere of her new documentary, "Free Angela and All Political Prisoners," screened at the 2013 Pan African Film Festival. You see, it was pictures of Angela's afro from the 1970s that inspired me to go natural in 2011. Who knew I would actually meet the woman in person! It was a thrilling moment for me! Photographer Valerie Goodloe caught this timeless shot of me with this living legend. Thank you, Valerie, for catching this moment in time. For more of red carpet pictures, check out the slide show gallery below or click here. I'm always adding news photographs. 🙂
See ya on the red carpet!